I thought I'd take a few minutes on this sleety, snowy October day (BTW, WTF?!) to say hi to my blogger friends and let you know what's been going on in my Ravenna. Not much, truth be told. BF and I are settling in, but we still have unpacked boxes everywhere. Good thing I found the winter coats!
You might remember that I hate shopping. Hate it! Detest it! But we need some new stuff to make the house into a comfortable home for ourselves.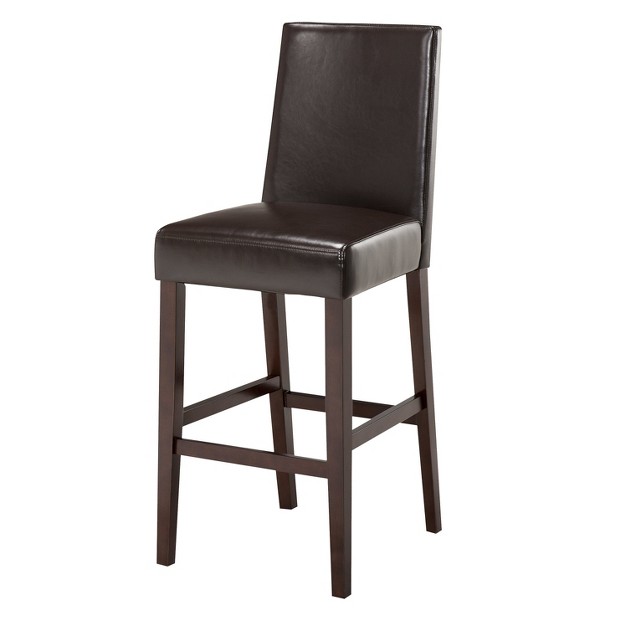 Target Avery Barstool.
The first thing I decided i needed was barstools for the kitchen island. The island is great, but without seating around it, its not the gathering place that it should be. The stool search has proven to be very frustrating.
I purchased two Avery barstools at my local Target for about $90 bucks a piece. I generally think Target stuff is of decent quality, but these were an exception. One the first stool, one leg cracked as we tightened up the bolt. On the second stool, the legs were about half an inch different in length. After about 2 hours of fighting with them, we packed them up and took them back.
Overstock.com Bennett Barstool.
I then started checking out Overstock, thinking I might be able to get a good deal and avoid going to the mall or a furniture store (hate!). Ordered the Bennett Barstools for around the same price. Same general style, same faux leather. They arrived in a about a week and I tried to put them together a couple days ago. Same kinds of problems. Cracked parts, uneven legs, general wobbliness. We took them apart this morning and got them boxed back up to send back.
So after a total of about 4 hours of assembly and disassembly, not to mention time speaking with customer service people, we are still without the bar stools that I want! Grrr.
But we do have a new rule in our household - no furniture that we have to put together ourselves. Both of these stools were made in China, which is part of why they were so reasonably priced AND why we had to assemble them ourselves. I'm not a huge fan of China's labor and environmental policies, so I'm going to keep that in mind as we go forward on more furniture purchases.
And so, we are getting a new sectional sofa for the living room, one that is on sale, and made here out of fabric that is made here! Sale lasts until next Friday.
Pottery Barn Comfort Roll Sectional in Honey Brushed Canvas
To be perfectly honest, even on sale and with the additional 10% discount we were offered, this sofa costs a bit more than I would have liked to spend. But, it saves me from having to spend any time in furniture stores (bonus), its made in North Carolina (bonus) out of US made materials (bonus). And its a nice color and comfortable (bonus). BUT, it won't be here until January (boo!).
So, we've got a new couch on the way, but still no barstools.
Anyone have any barstool success stories?